BTL emsculpt NEO 360 London Fulham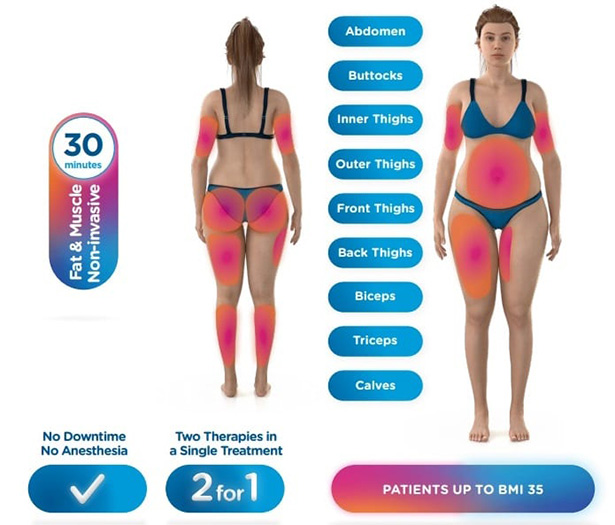 Clinically proven revolution in fat burning and muscle building What is emsculpt NEO by BTL and why is everyone talking about it? This award winning machine has caused a real stir in the industry with its revolutionary system.
EMSCULPT NEO is the first and only non-invasive body shaping procedure that combines 2 energies for simultaneous fat elimination and muscle building in a 30-minute session.
Sound too good to be true?
How many times have you heard someone say they wish they could just tone up without moving off the couch? Well….now it's possible!
Emsculpt NEO does so by simultaneously emitting electromagnetic energy(HIFEM+) with radiofrequency (RF). Electromagnetic fields trigger thousands of muscle contractions, equivalent to 24,000 crunches, while radiofrequency heat burns through your fat cells to permanently destroy them. This gives you exceptional body-sculpting results without any pain, surgery downtime or any physical exertion.
What results can I expect ?
It has been clinically tested and proven to deliver an a rage of 25% muscle increase and 30% fat decrease.
The best part is each paddle and each impulse can be adjusted independently. Which means Emsculpt NEO can be used to increase and well as decrease size. Whatever your body goals are - they can be effortlessly achieved with NEO!
Moreover, 30 scientific publications make HIFEM the most intensively researched body contouring technology since its introduction in 2018.
What areas can be treated?
Emsculpt NEO has been FDA approved to treat the abdomen, buttocks, inner/outer/front/back thighs, biceps, triceps and calves.
How long does it take?
Each session lasts 30 minutes.
We usually recommend a course of 4 sessions - one every 5-10 days.
Some results can be seen instantly. However they will continue to improve everyday and full results can be seen around the 3 months mark.
So the body can be transformed at an unbelievable speed in just 4 short, pleasant treatments.
<< SpaClinique London Blog