BTL EMSELLA London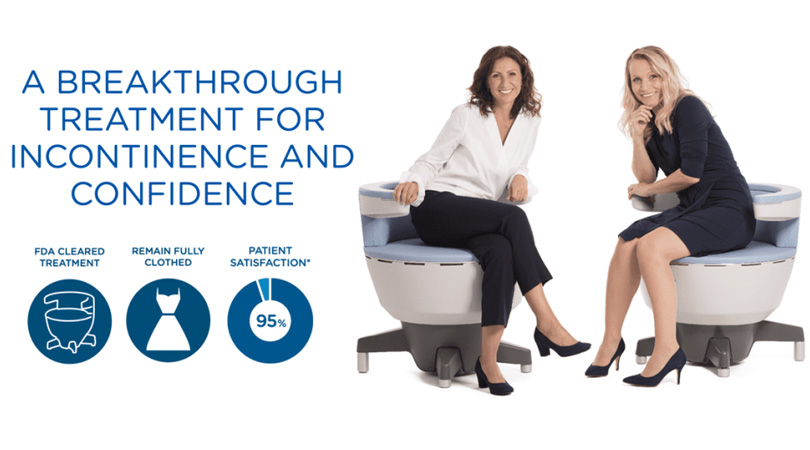 The Emsella™ Chair is a new non-invasive electromagnetic device with FDA clearance to restore pelvic floor muscle and neuromuscular control for intimate health and urinary incontinence in women AND men, fully clothed. In strengthening these muscles, Emsella™ significantly reduces the symptoms related to incontinence. In addition, a stronger pelvic floor reduces nocturia – waking up in the night to void – and can even improve sexual satisfaction.
Over 200 million people worldwide are affected by incontinence.
ARE YOU ONE OF THEM?
Do you leak urine when you cough, sneeze or engage in sports activities? Do you need to go to the bathroom often? Have you refrained from intimate life in the last months out of fear of embarrassment of leaking?
If you answered "yes", you are probably suffering from urinary incontinence. Emsella is the first device of its kind, and is FDA cleared to treat both men and women for urinary incontinence. One EMSELLA session is the equivalent of 12,000 Kegels.
Why People Are Saying Yes To Emsella, the "Kegel Throne"
NON-INVASIVE: PATIENTS REMAIN FULLY CLOTHED
TREATS THE ENTIRE PELVIC FLOOR
DELIVERS THOUSANDS OF CONTRACTIONS PER SESSION
IMPROVED QUALITY OF LIFE, INTIMATE HEALTH
The pelvic floor includes ten muscles that directly support the bladder and male and female sex organs. For those suffering from poor sexual function and/or leaking, the solution is the same. Kegel exercises strengthen the pelvic floor muscles, which strengthens the bladder muscles and ability to hold fluids in, along with tightening the muscles needed for erectile function and ejaculation control in men, and tightening the muscles supporting the vaginal canal. Stronger pelvic floor muscles also means increased blood flow, resulting in improved bladder control and improved sexual sensation. Because the Emsella delivers the equivalent of 11,200 kegel contractions in 28 minutes, the solution is clear: Emsella is the preferred non-invasive, non-surgical treatment method for incontinence and intimate health in men and women.

What is Urinary Incontinence?
Urinary Incontinence is defined by any accidental loss of urine from the bladder. It affects up to one-third of women AND men in the United States. Although more commonly experienced in females than males, incontinence is unpleasant regardless of gender. Common causes include: age, childbirth, or falling hormone levels. Whatever the case, it makes physical activity or even regular movements like sneezing, laughing, or coughing an uncomfortable experience.
Body Aging, Childbirth, And Menopause Can Lead To Incontinence
The EMSELLA from BTL Aesthetics is the first device of it's kind – an FDA cleared chair that uses a high-intensity electromagnetic field (similar to an MRI) to activate motor neurons in the pelvic floor and treat urinary incontinence.
Patients remain fully dressed when receiving High Intensity Focused ElectroMagnetic (HIFEM) field procedure
Using HIFEM (High Intensity Focused Electromagnetic) field to stimulate and contract the pelvic floor muscles, the Emsella strengthens this pelvic floor and surrounding tissues for improved tightness in the area.