BTL EMTONE London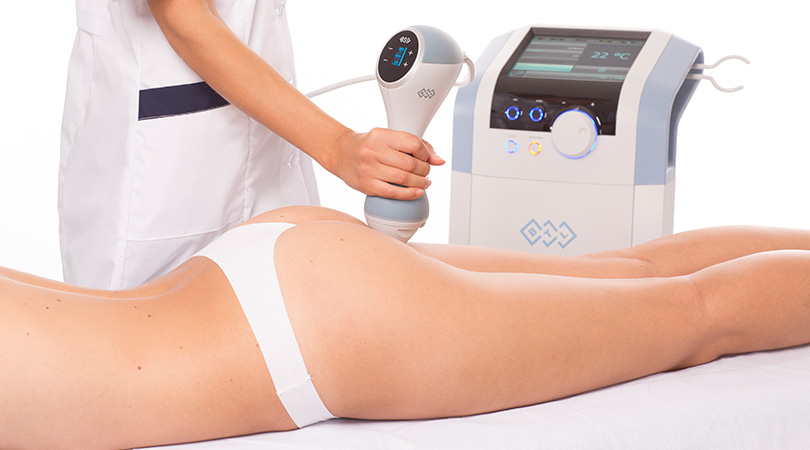 BTL EmTone employs the clinically-proven technologies of radio frequency (RF) and targeted pressure energy in a hand-held, clinic device. Both these technologies are proven to increase the production of collagen, which increases the skin's elasticity. With a controlled temperature application, the amount of fatty deposits in any affected area are reduced. The pressure on the connective strands means that the fibrous structures relax and reduce the underlying tension in the skin, which create that dimpled effect.
A device-led cellulite treatment, EmTone simultaneously treats the five causes of cellulite in a safe and effective way. Areas treated:
Buttocks
Front of thighs
Back of thighs
Abdomen
Flanks
How do I know I am suitable for BTL EmTone?
If you have visible areas of cellulite and are fit and healthy, then the chances are that you will be able to undergo a treatment of BTL EmTone. However, prior to any treatment here at Spa Clinique London, we will invite you to attend a no obligation consultation, so we can ascertain your individual concerns and advise on the most appropriate treatment plan for you.
BTL EmTone is a completely painless, safe and effective treatment, feeling rather like a hot stone massage with vibrations. As it is a non-surgical procedure there is no need for anaesthetic or an overnight stay in hospital. You can return to your daily activities immediately after your treatment, with very little side-effects apart from some tenderness and slight swelling, which will subside in a day or so.
When will I see results?
In some cases, results can be seen after one session and will continue to improve over the coming weeks, following your treatment course. On average, around 6 sessions will be required to produce long-term results. Your practitioner will discuss with you how to maintain your results with a good diet and healthy exercise regime.